Regular price
$673.77 USD
Regular price
Sale price
$673.77 USD
Unit price
per
Sale
Sold out
*For an online packing checklist with everything required for Ranger School, go here, or click here to download the excel version*
Ranger Pack Includes all the following Items:

2     

Eye Protection APEL (Clear Lens only) (w/inserts if required) (Insert do not count as eye glasses)
2     Black Tape, friction or electrical           
1     Neck Gator  Brown / Tan     NO BLACK 
1     Mouthpiece
1     Adapter, Firing, (M4 yellow) NOT M16 RED
1     Watch cap; black micro fleece
1     Weapons Cleaning Kit, small arms with the following items:

  1 cleaning rod handle,
  4 cleaning rods,
  1 eyelet,
  1 bore brush,
  1 chamber brush,
  1 two ended toothbrush,
  1 pack of chamber patches,
  1 small bottle of CLP

1     Bottle of CLP
1     Whistle, OD (military issue)
1

     

Belt, reflective (High Vis. Yellow)
3     Combination Locks (key locks unauthorized) 1 additional for unauthorized bags if from overseas unit or TDY enroute
1     Ear Plugs with Case
1     Extra Bootlaces
1     Extra bite Valve and Bladder for hydration system
16   Batteries, AA and/or AAA cell (For Flashlights)    
1     Headlamp
1     Luminous tape 1"X6" strip
3     Nylon Cord (550 type)
10   Pens
10   Pencils
2     Notebook, pocket size (Riteintherain) 1-4x6; 1-5x7(Tactical Notebook)
1     Protractor
1     Sewing Kit
2     Shaving Cream
1     Soap
1     Lotion
1     Soap Dish
1     Tape, 100 MPH
1     Toothbrush
1     Toothpaste (large tubes)
2     Towels, large (green or brown) Microfiber
2     Towels (wash cloth) (green or brown) 

Microfiber

1     Laundry Soap        (1 Pack)
1     Band, Helmet, Camouflage
1     Alcohol Marker, permanent (4 pack multiple colors)
3     Camouflage Stick, light green and loam (or like item)
1     Mesh Bag
1     Alcohol Markers (Blk/Blue/Red/Grn)
1     Alcohol Eraser
10   Chemlights, IR
1     Finger/toe nail clippers
1     Foot Powder, (Antifungal, not containing menthol

NON-MEDICATED

)
10   Large Trash Bags
1     Lip Balm
1     Pocket Knife (folding blade 4" or less)
1     Small Mirror
25   Waterproof Bags (zip lock, small)    Quart Size
120 Baby Wipes: Alcohol free and without additives
60   Gum non-energy or caffeine free
1     Hand Sanitizer with or without alcohol is permitted
2     Index Cards
1     Lamination Paper    (1 Roll)
1     Letter Writing Material
3     Lighter
1     Moleskin    (3-Pack)
1     Pace Cord
1     

Anti-chafing Lotion: (6 - 8 FL.OZ.) Free of alcohol, fragrance, and petroleum 

(Body Glide authorized)

 
1     Status Card NOTE: Status Cards Must be BLANK
1     Wrist Compass
1    Pack of Rubber Bands

Share
View full details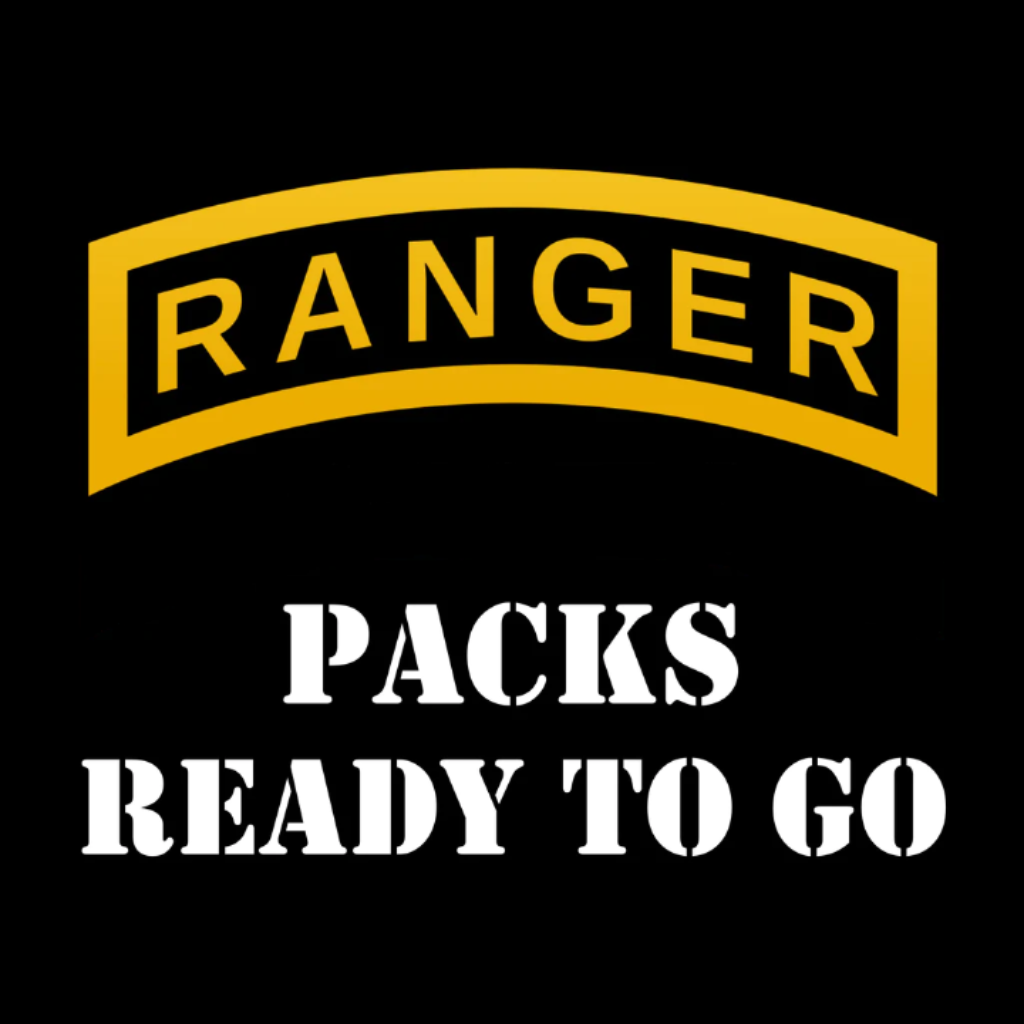 Critical Items Collection
Critical Ranger School packing list items not included in the Ranger Pack.
Ranger Pack: Supplemental Optional Items Collection
Optional items not included in the Ranger Pack.